STRETCH REPAIR
We make the impossible possible
We can perform restoration and repair on most Oyster and Jubilee bracelets.
The pins that connect the links will abrade after extensive usage. Dirt and other things that are stuck around the pins and tubes become like abrasive when the pins and links rub against each other. This results in both the link and the pins being ground down and the space inside become larger and larger.
WEAR
After years of use.
For the stretch to be repaired we insert new pins and tubes that allow the links to be tightened again.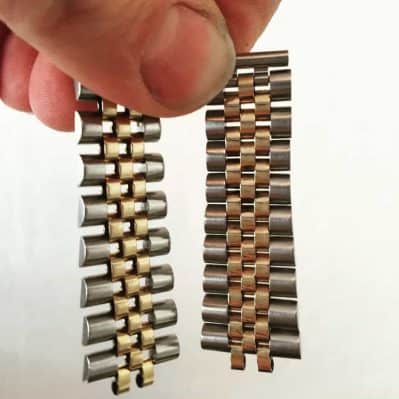 Before and after pictures on a Jubilee stretch repair
Solid end links (SEL) need a new pin.
Oysterquartz bracelet with new pins and tubes.
Before and after pictures from a Oyster bracelet restoration.
Before and after pictures of a laser welding repair.
It is important to clean the bracelet. Dirt and dead skin cells are like abrasive paper inside the links.
Restoration of a ref. 93150 Oyster bracelet.
Repair on a Oyster band with solid end links (SEL).
Jubilee Steel
$220
USD
All sizes/5 digits reference number
Jubilee Steel/Gold
$250
USD
All sizes/5 digits reference number
Oyster Steel
$220
USD
All sizes/5 digits reference number
Oyster Steel/Gold
$250
USD
All sizes/5 digits reference number
All prices are for stretch repair only. Other work that might need to be done is charged extra, e.g. new parts, laser welding etc.
Are you wondering about prices for polishing, laser welding, one link repair etc.? Please contact us.
President bracelets we dont take in for service right now, because of the high cost of  the restoration.
When tightening, the bracelet will be shorter. Some customers might need to buy new/used links to make it fit. The bracelet might become stiffer, but this will disappear during usage. For the oldest "folded and rivet" bands, it is difficult to get new/used links.
WE WOULD LIKE TO HEAR FROM YOU
If you have questions on any of our services, please contact us.
All inquiries will be answered as soon as we can. 
Also check our frequently asked questions box below here (FAQ). 
F.A.Q.
Here you will find most answers to your questions about stretch repair.
Yes, on the Jubilee bracelet we replace pins on all the links. The Oyster bracelet are a little different with tubes around the pins. It is the tubes we change most often in the Oyster Bracelet.
No, we do not repair the gold center links during a stretch repair of the Oyster and Jubilee. However, we will contact you if we notice that some of the links are so dilapidated that they can break. We then repair the selected joints for a nice price.
A few times, when we pull the links apart, there may be some surface scratches on the links. These are removed by way of polish.
Yes, but only if you tell us to do it. However, we do not remove deep scratches. We provide an easy link polishing. If you want a full polish, it comes with an extra cost.  We recommend fixing deep scratches with laser welding.
The new pins or tubes are of the same type of steel as the original.  The more often link and bracelet are cleaned, the longer the bracelet will remain nice and tight.
No, we make the new pins and tubes that are inserted on the Jubilee and Oyster bracelet ourselves.